Add to Cart – 
Delightful vitamins and supplements with real-deal benefits that help you live #HappyInsideOut. SHOP NOW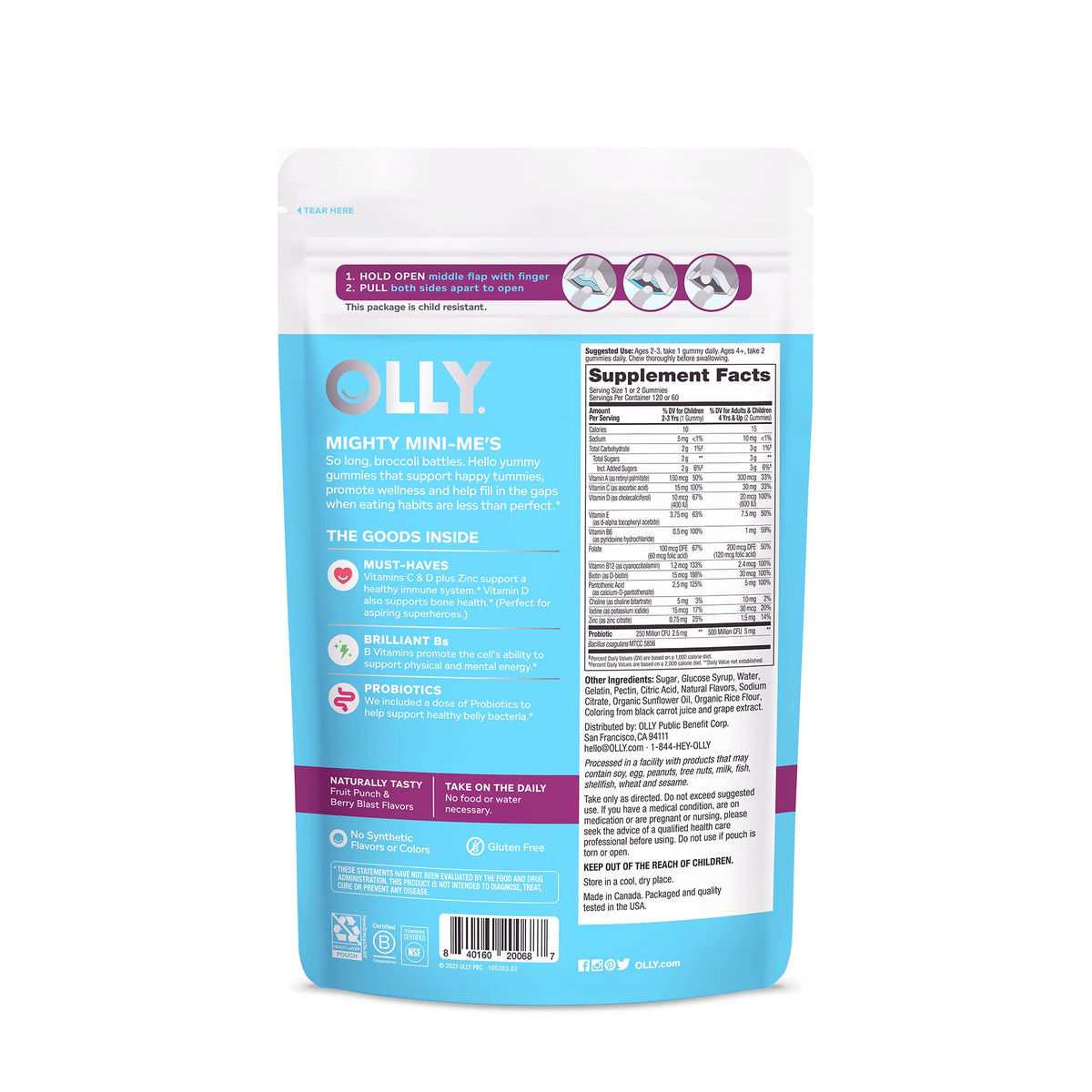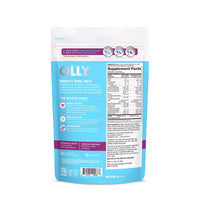 Kids Multi + Probiotic
Key nutrients like Vitamins A, C, D, E, Bs and Zinc to support growing kiddos.*
A delicious win-win. This bite-sized Multi is packed with all the good stuff kiddos need to thrive on the daily, plus a boost of Probiotics to support healthy digestion and immune systems.*
Please note: we're moving away from the sugar coating! During the transition, the product in your order may or may not have it. Please reach out with any questions.
Flavor: Yum Berry Punch
Complete multi with a blend of Vitamins A, C, D, E, Bs & Zinc
How It Works
OLLY Kids Multi & Probiotic delivers key vitamins and minerals active kiddos need, plus a boost of live Probiotics—the beneficial bacteria that help keep little bellies in balance.*
MUST-HAVES

Vitamins C & D plus Zinc support a healthy immune system.* Vitamin D also supports bone health.* (Perfect for aspiring superheroes.)

BRILLIANT B's

B Vitamins promote the cell's ability to support physical and mental energy.*

PROBIOTICS

We included a dose of Probiotics to help support healthy belly bacteria. *
Delightfully Tasty
Fruit Punch & Berry Blast
NSF Certified
NSF certification helps consumers identify products that have been independently tested and certified to meet rigorous standards for quality, safety, and label claims.
*These statements have not been evaluated by the Food and Drug Administration. This product is not intended to diagnose, treat, cure or prevent any disease.
Fast Shipping
Delivered within 2-3 business days
for a flat rate of $6.99 and free
shipping over $59.
Easy Returns
If you're not satisfied, you can
return the product anytime within
30 days.
OLLY Love
Low sugar, great taste, good for kiddos!
This brand has been great so far for my girls. No iron, low sugar, tastes great and has all the extras needed for little ones. We like this one as well because it helps with gut health (and my younger one has digestive issues / lactose allergy). We've seen an improvement since starting these 2mos ago. Highly recommend.
glittershoeseveryday
Pediatrician approved!
I give these vitamins to my daughter, who's 8. She's never turned them down, and is extremely picky about taste. I asked her pediatrician for her thoughts, and she said these offer the perfect blend of essential vitamins. She also went on to explain that most children's multivitamins have unnecessarily high amounts of vitamins, and fillers (which are not ideal). These do not. I've personally been a fan of the Olly line for years. I'm happy to give my daughter something she enjoys, and benefits from.
thebeccalife
Great taste & Great for Kids
My kids love this multivitamins & it has probiotics. I gone thru so much bottle of this. This is the only vitamins that my kids take and they barely get sick. The taste is so great this is why my kids love it.
andreakayc